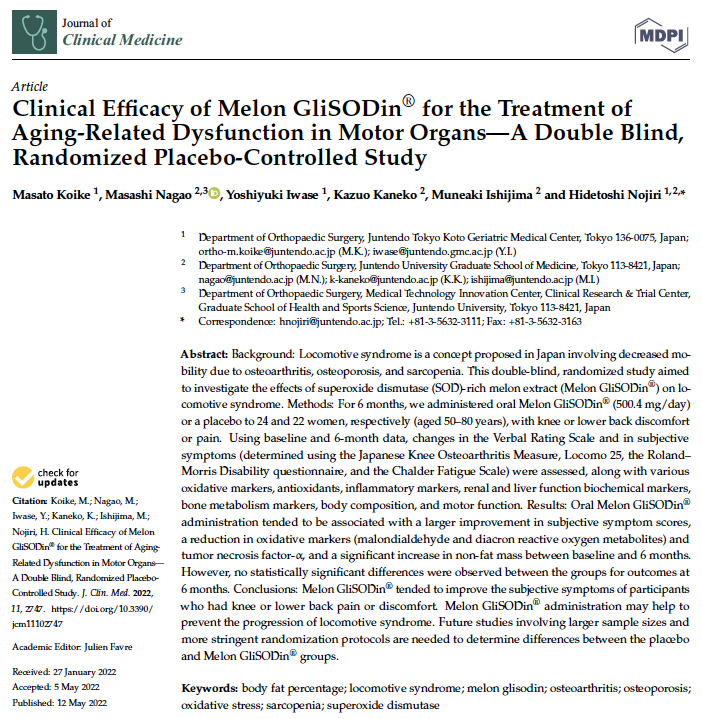 Authors:
M Koike, M Nagao, Y Iwase, K Kaneko, M Ishijima and H Nojiri
Background:
Locomotive syndrome is a concept proposed in Japan involving decreased mobility due to osteoarthritis, osteoporosis, and sarcopenia. This double-blind, randomized study aimed to investigate the effects of superoxide dismutase (SOD)-rich melon extract (Melon GliSODin®) on locomotive syndrome. Methods: For 6 months, we administered oral Melon GliSODin® (500.4 mg/day) or a placebo to 24 and 22 women, respectively (aged 50–80 years), with knee or lower back discomfort or pain. Using baseline and 6-month data, changes in the Verbal Rating Scale and in subjective symptoms (determined using the Japanese Knee Osteoarthritis Measure, Locomo 25, the Roland–Morris Disability questionnaire, and the Chalder Fatigue Scale) were assessed, along with various oxidative markers, antioxidants, inflammatory markers, renal and liver function biochemical markers, bone metabolism markers, body composition, and motor function.
Results:
Oral Melon GliSODin® administration tended to be associated with a larger improvement in subjective symptom scores, a reduction in oxidative markers (malondialdehyde and diacron reactive oxygen metabolites) and tumor necrosis factor-α, and a significant increase in non-fat mass between baseline and 6 months. However, no statistically significant differences were observed between the groups for outcomes at 6 months.
Conclusions:
Melon GliSODin® tended to improve the subjective symptoms of participants who had knee or lower back pain or discomfort. Melon GliSODin® administration may help to prevent the progression of locomotive syndrome. Future studies involving larger sample sizes and more stringent randomization protocols are needed to determine differences between the placebo and Melon GliSODin® groups.