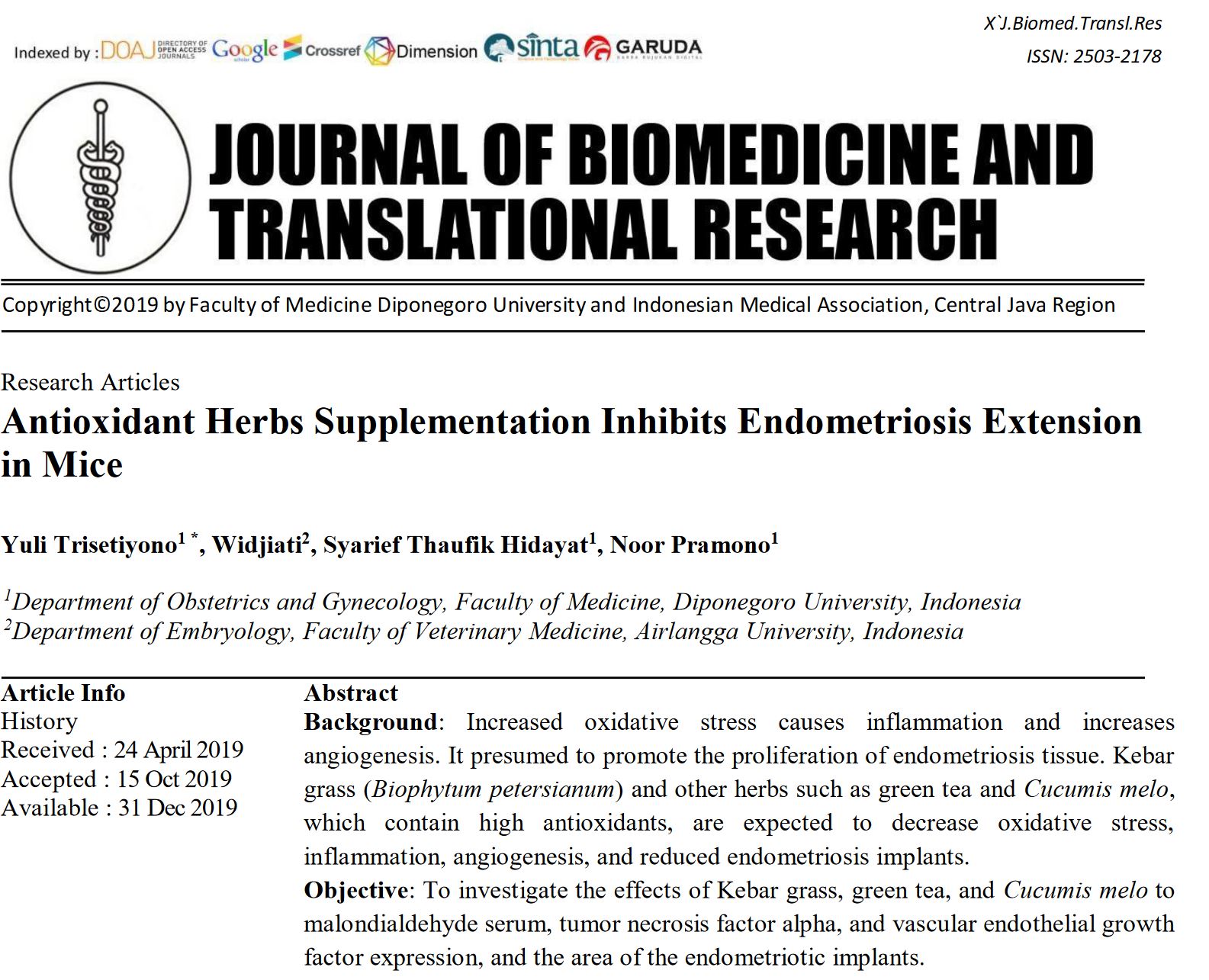 Authors:
Y. Trisetiyono, W. Widjiati, S. Hidayat, and N. Pramono,
Background: Increased oxidative stress causes inflammation and increases angiogenesis. It presumed to promote the proliferation of endometriosis tissue. Kebar grass (Biophytum petersianum) and other herbs such as green tea and Cucumis melo, which contain high antioxidants, are expected to decrease oxidative stress, inflammation, angiogenesis, and reduced endometriosis implants.
Objective: To investigate the effects of Kebar grass, green tea, and Cucumis melo to malondialdehyde serum, tumor necrosis factor alpha, and vascular endothelial growth factor expression, and the area of the endometriotic implants.
Methods: Twenty-eight mice were divided into four groups, i.e., the first group of endometriosis mice was given Kebar grass extract; the second group was assigned green tea extract, the third group was given the combination of Cucumis melo extract–gliadin, and the last containing the untreated endometriosis mice as the control. Each treatment was given for 14 days. The data of MDA serum level, the area of the endometriotic implants, TNF-α, and VEGF expression were collected and analyzed.
Results: The MDA serum levels of the groups treated with Kebar grass extract, green tea extract, and Cucumis melo extract – gliadin were significantly lower (p=0.001) than the control group. TNF-α expression of the groups provided with each treatment also lower than the control groups (p=0.002). However, only the administration of the Cucumis melo extract–gliadin resulted in lower VEGF expression compare with the control (p=0.017). Finally, the area of the endometriotic implants of the mice models administered with each treatment was smaller than the control group (p=0.003).
Conclusion: Kebar grass as well as green tea and Cucumis melo–gliadin inhibits endometriotic implants extension by decreasing MDA serum and TNF-α expression.