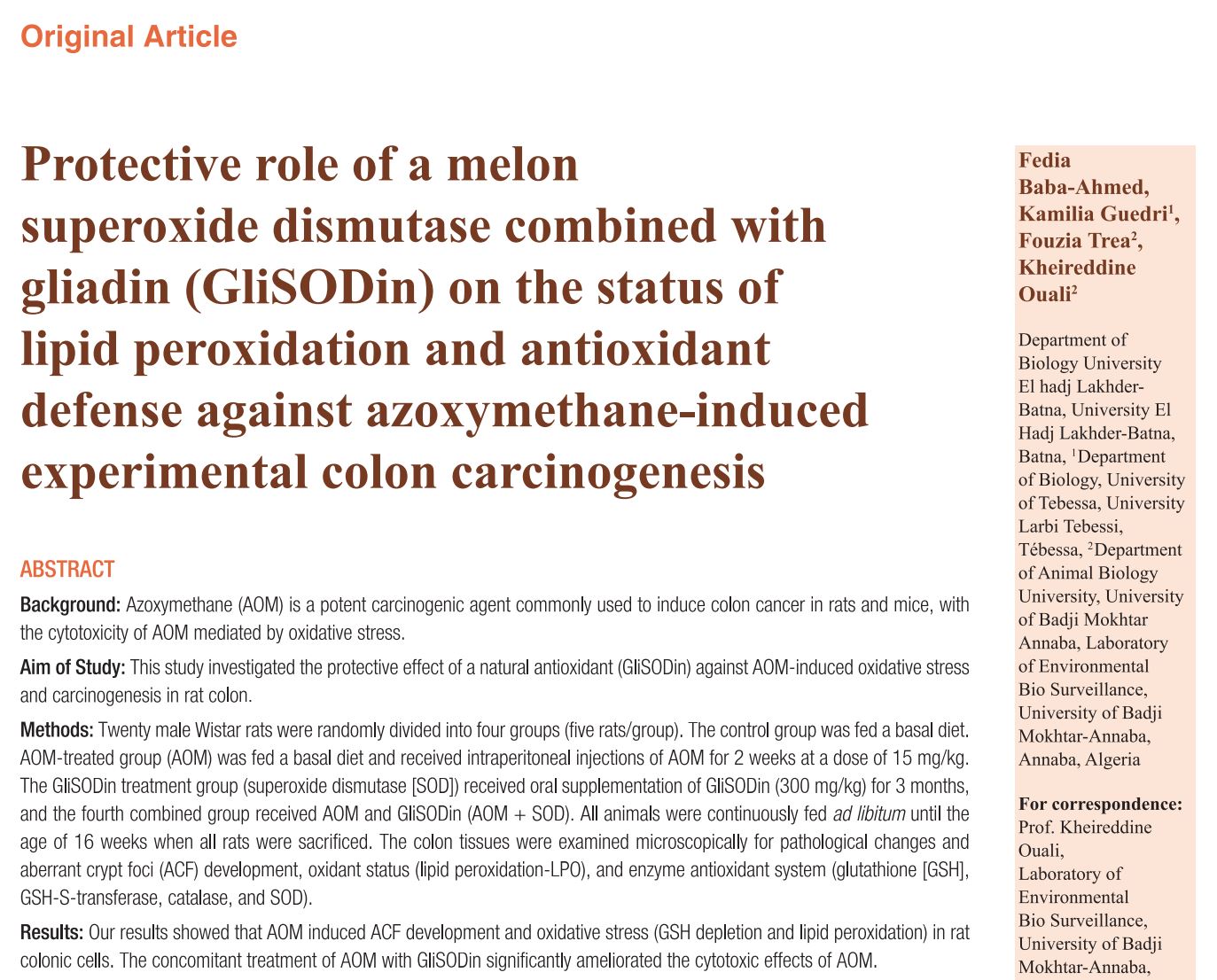 Authors:
Fedia Baba-Ahmed, Kamilia Guedri, Fouzia Trea, Kheireddine Ouali
Background: Azoxymethane (AOM) is a potent carcinogenic agent commonly used to induce colon cancer in rats and mice, with the cytotoxicity of AOM mediated by oxidative stress.

Aim of Study: This study investigated the protective effect of a natural antioxidant (GliSODin) against AOM-induced oxidative stress and carcinogenesis in rat colon.

Methods: Twenty male Wistar rats were randomly divided into four groups (five rats/group). The control group was fed a basal diet. AOM-treated group (AOM) was fed a basal diet and received intraperitoneal injections of AOM for 2 weeks at a dose of 15 mg/kg. The GliSODin treatment group (superoxide dismutase [SOD]) received oral supplementation of GliSODin (300 mg/kg) for 3 months, and the fourth combined group received AOM and GliSODin (AOM + SOD). All animals were continuously fed ad libitum until the age of 16 weeks when all rats were sacrificed. The colon tissues were examined microscopically for pathological changes and aberrant crypt foci (ACF) development, oxidant status (lipid peroxidation-LPO), and enzyme antioxidant system (glutathione [GSH], GSH-S-transferase, catalase, and SOD).

Results: Our results showed that AOM induced ACF development and oxidative stress (GSH depletion and lipid peroxidation) in rat colonic cells. The concomitant treatment of AOM with GliSODin significantly ameliorated the cytotoxic effects of AOM.

Conclusion: The results of this study provide in vivo evidence that GliSODin reduced the AOM-induced colon cancer in rats, through their potent antioxidant activities.